Chicago Red Stars' Sam Kerr wins second NWSL MVP award
RALEIGH, N.C. -- Already the most prolific goal scorer in National Women's Soccer League history, Sam Kerr is now the first player in the league to win MVP honors for a second time.
Kerr accepted the 2019 MVP award Friday in North Carolina, where her Chicago Red Stars will play the North Carolina Courage in Sunday's championship game (live on ESPN at 3:30 p.m. ET).
"Thanks to the girls that have to put up with me all season," Kerr said. "Eighteen goals doesn't come from just one player, so thank you to my teammates. I love playing for Chicago, I love the girls, I love the team. They allow me to be the best player I can all year. It's a huge team effort.
"And this means really nothing if we don't win on Sunday, so let's win the trophy, girls."
Kerr, 26, was the NWSL's Golden Boot winner as its leading goal scorer for the third consecutive season. She scored 18 goals in the regular season, breaking her own record of 17 set two years earlier. She scored six more goals this season than her nearest competitor.
She also scored the lone goal in Chicago's 1-0 semifinal win against Portland to ensure the Red Stars advanced to the championship game for the first time.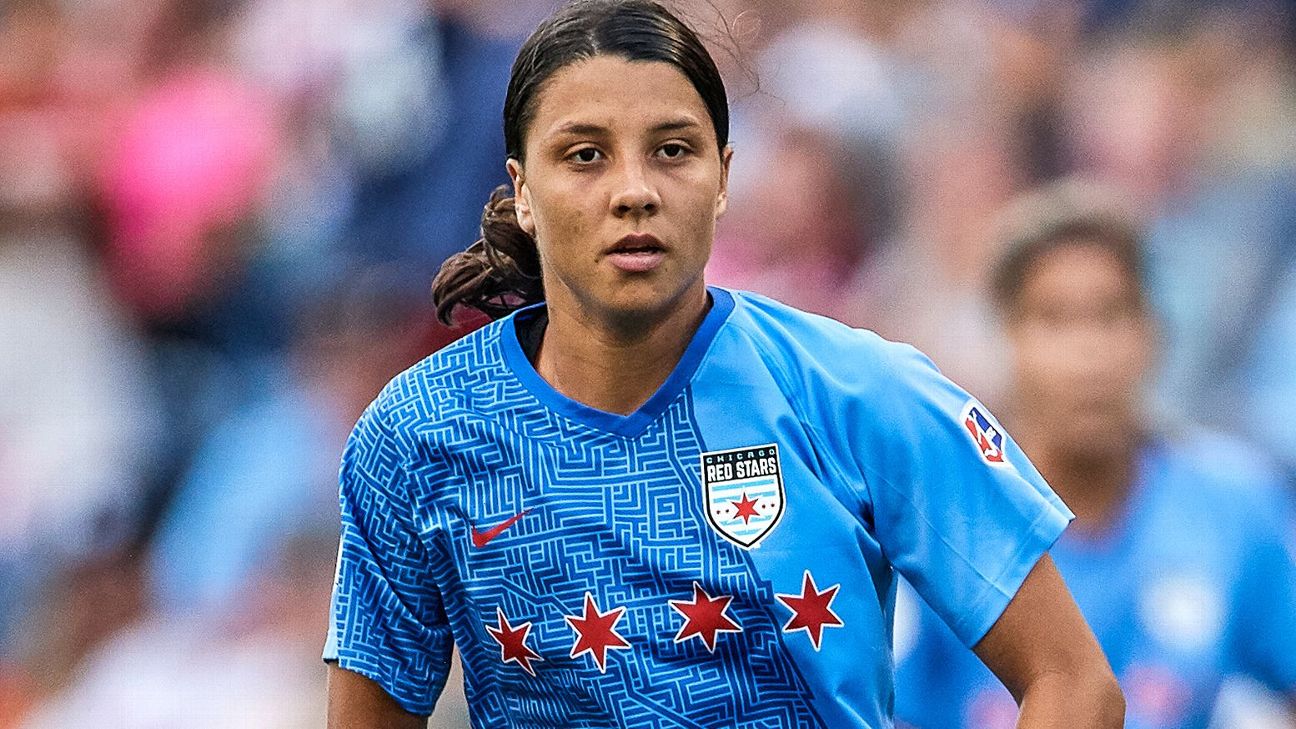 A part of the NWSL since its 2013 inception when the Australia international was a 19-year-old rookie with the Western New York Flash, she has scored a league record 76 goals in 119 appearances. But it is in the past three seasons, one with Sky Blue and two with Chicago, that she solidified her standing as one of the best players in the world. Her 51 goals in the past three seasons alone are more than any other player in the league's entire history.
She was also the league's MVP in 2017 while playing for New Jersey-based Sky Blue FC.
"The first one, I was sitting on my couch probably watching the semis when I found out," Kerr said. "So it does feel different -- and it feels a little bit better, to be honest, that you can help your team hopefully achieve something great."
Many expected Kerr to play a lesser role in the NWSL this season, with Australia thought to be among the top contenders in the World Cup in France. Kerr scored five goals in the tournament, including a four-goal outburst against Jamaica, but the Matildas finished behind Italy in their group and were then eliminated by Norway in a penalty shootout in the knockout round.
Told by the Red Stars to take as much time as she needed before returning to the United States, she was back in training within three days and scored a hat trick for the Red Stars a little more than a week after Australia's World Cup exit. The Red Stars went 11-4-0 after her return, good enough to finish second and secure a home game in the semifinals.
In all, she missed just three NWSL games this season. The Red Stars lost all three games.
Kerr is seeking to become just the second player to win the MVP award and a championship in the same season, matching what current North Carolina forward Lynn Williams accomplished with Western New York in 2016.