Tottenham potential should keep Pochettino away from Real Madrid, PSG
They know what is coming at Tottenham Hotspur and it is unavoidable, such has been the intensity of the speculation linking manager Mauricio Pochettino with Real Madrid and Paris Saint-Germain.
Wednesday's Champions League round of 16 first-leg tie between the two European giants at the Santiago Bernabeu, which ended with Real claiming a potentially-decisive 3-1 victory, had the feel of some kind of Pochettino eliminator, with the club which ultimately loses the tie set to move into pole position to lure the Argentine from Spurs.
Both Zinedine Zidane and Unai Emery will know that their futures at Real and PSG respectively depend on the outcome of their Champions League encounter, but equally, the Spurs hierarchy will already be bracing themselves for Pochettino to become the front-runner to replace the unlucky loser.
The 45-year-old is now the most sought-after coach in world football after transforming Spurs from perennial also-rans into genuine contenders. That he has done so by promoting and trusting young talent, such as Harry Kane and Dele Alli, without spending huge sums in the transfer market makes him even more attractive to the top clubs -- even those with seemingly unlimited resources like Real and PSG.
And Pochettino, who was considered by Manchester United as a possible successor to Louis van Gaal prior to Jose Mourinho's appointment in May 2016, has not shied away from the links to Europe's elite either.
Prior to Tottenham's Champions League clash with Real Madrid last October, he played up the speculation linking him to the Bernabeu hotseat by insisting "you never know what happens in the future" -- then at the same time (as a former Espanyol player and manager) insisting he could never coach rivals Barcelona.
Pochettino clearly values the personal connection. And, luckily for PSG, his links with the French club are strong having spent two years as a player at Parc des Princes between 2001-03.
It seems Pochettino is destined for the top as a coach, but Spurs chairman Daniel Levy will put every resource into ensuring that the former Southampton manager remains at the club to lead them into their new stadium and oversee a golden era at the new White Hart Lane.
The offer of a new contract, while not yet confirmed, will be high on Levy's agenda, with Pochettino less than two years into the five-year contract he signed in May 2016. But although Pochettino is clearly a man in demand, he does not hold all the aces; Spurs have a stronger hand than some give them credit for and they need to play it well.
There were many positives from Tottenham's stirring Champions League fightback against Juventus in Turin on Tuesday, when Pochettino's young team overturned a 2-0 deficit inside nine minutes to emerge with a 2-2 first-leg draw.
The sight of Kane, Alli, Christian Eriksen and Mousa Dembele dominating the big stage against a team as experienced and seasoned as Juventus was a sign that Spurs now belong among the elite. They continue to await their first piece of silverware under Pochettino, but the sense of Spurs now being on the cusp of something big is undeniable.
Pochettino has guided them to this point and it seems the team is now maturing into one capable of winning every competition it enters. So why would he even consider walking away from a party that is just about to get going?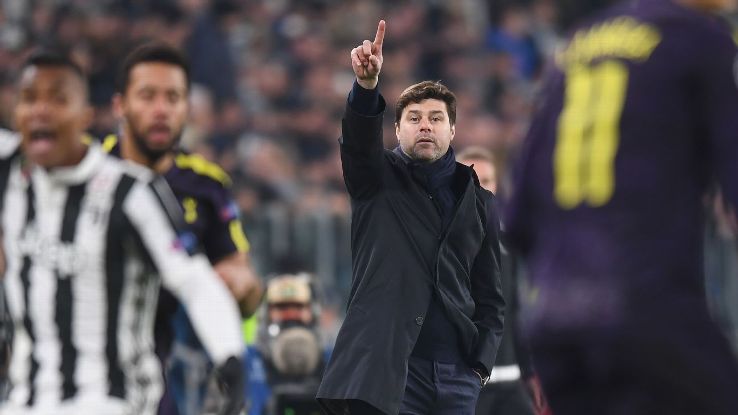 "Project" is an over-used word in football, but Tottenham's project is ready to take off and Pochettino would surely take more pride and satisfaction from being a part of that than becoming the latest coach to jump on the carousel at the Bernabeu or Parc des Princes?
Real is a dream job for every coach in the game, but the European champions have an ageing squad in need of huge reinvestment. And, despite this, the intense pressure to deliver would not diminish.
Real could be a case of the right job at the wrong time and although PSG would offer Pochettino a squad capable of winning domestic glory in France, it's debatable whether they are any closer to Champions League success than Spurs. And of course the pressure and expectations at both those clubs would far outweigh what he has to deal with at Spurs, where he is quite rightly the master of all he surveys.
It's possible there is some frustration inside Pochettino about Tottenham's near misses in recent seasons, when they have come close to Premier League success but ultimately faltered.
Manchester City's mammoth spending under Pep Guardiola has taken them beyond Spurs and the chasing pack this season, so Pochettino may believe that it is becoming a closed shop in terms of winning trophies in England. But his team are now capable of beating the best and winning, which is why Sunday's FA Cup fifth round tie against League One Rochdale is so important.
Win that, and Spurs are just two games away from the FA Cup final and a potential first trophy.
When the first piece of silverware arrives, many could follow. That prospect may be enough for Pochettino to reject any lucrative offers from Madrid or Paris because, if he leaves now, imagine how painful it would be to watch his replacement deliver success with the team he built.
Mark Ogden is a senior football writer for ESPN FC. Follow him @MarkOgden_