Real Madrid not in top gear yet but should rise to Spurs' UCL visit
If you were to take just one lesson from Real Madrid's perpetual and passionate love affair with being champions of Europe, it's that across the 62 years of the European Cup and Champions League, Los Blancos have "wanted it" far, far more than anyone else. It's something imperative for Mauricio Pochettino, Harry Kane, Christian Eriksen & Co. to understand and then bear in mind at the Bernabeu on Tuesday night.
Yes, there have been times when Madrid have not only lifted the cup with the big ears and been, demonstrably, the best team on the continent or the better team in the final. But there have been other times when a poor domestic season or even being outplayed on the night (we could argue about 1998, 2002 or 2014) has mattered not one bit. In the old days, the European Cup didn't have an anthem as the Champions League does now... and probably just as well.
Madrid have a far better win rate in the modern Champions League era than they did in the European Cup despite having won that original competition five times on the trot. Los Blancos won six European Cups between 1955 and 1993, and they've now got six Champions Leagues between 1993 and 2017. You do the maths.

Real Madrid

Tottenham Hotspur
Game Details
And what only the obtuse, the stupid or the contrary could deny is that when any modern Madrid side hears that anthem blasting around the stadium, it's like the old story of Pavlov's dogs. That infamous anecdote told of how Pavlov only fed his dogs when the bell rang and so, quickly, the dogs would race out ravenous and ready to feast whenever they heard the bell: it didn't even matter if there was food or if they were even hungry. It's about conditioning. Reflexes.
I'm the first to admit that if an ex-pro footballer or coach limits his post-match analysis to being "hungrier than the other side," it's simply not good enough. So that's specifically not what I'm trotting out here. But pre-match football analysis is now so ample and elegant in the details we supply about football squads and their training, performance statistics, formation and strategies that, occasionally, the fundamentals can be ignored.
So here it is, once again, for the record.
One of the principal problems any team must face if it wants to beat Madrid in Europe, whether in a group game, a knockout tie or the final, is that they must find a way to accept that Madrid will compete much more ferociously than in any other competition and are capable of playing far, far beyond their current form. The reason this is so vital for Spurs to understand is that if you take a look at Madrid's home record this season -- their form, their confidence, their relationship with the Bernabeu crowd, their susceptibility to counterattacks, the number of injuries they've had to disrupt their momentum -- you could gently argue that Pochettino's side could be capable of a shock.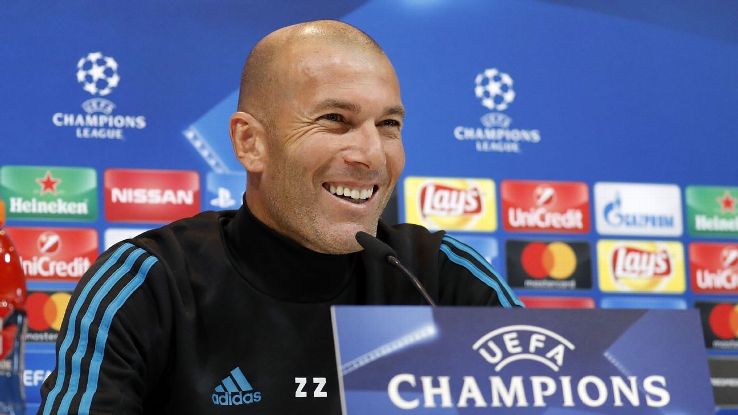 Home results? Madrid were flat in the listless 1-1 draw with Levante, ragged and increasingly frustrated when losing at home to Betis for the first time in two decades, and while they should have won by two or perhaps three against Valencia, the fact remains that it ended 2-2 in the Bernabeu as Los Che played toe-to-toe football with the world, European and Spanish champions.
Since destroying Barcelona in the Supercup, Madrid have been disjointed, nervy and below par... at home, anyway. On the road they remain a watchword for superb, hard-nosed transitions from one end of the pitch to another, and they play as if winning with thrilling, muscular football was simply second nature. I'd argue there still isn't another team anywhere in the world who are so relentless, so reliable and so scintillating to watch when they play on the road and soften a team up before pulverizing them.
Take the away nights in Dortmund, Barcelona, San Sebastian and La Coruna as examples this season: masterclasses, all of them. But given how well Spurs play away from home under Pochettino, how smooth their own breakaway transitions are and how clinical Harry Kane has been this season, you could easily portray this as a game the Premier League side could aspire to win. Five away matches this season, five wins, an average of three goals scored each time. Tottenham away days have become fun.
Madrid's difficulties are, I'd argue, really easy to diagnose. On the road there is no obligation for them to do anything other than win. It's a pleasant side-product of Zidane's tactical approach that they are deeply enjoyable for the neutral to watch. Constantly on the attack, clever about softening up the opponent, confident in stringing together long passing movements: it's just a joy. But they play as if they feel no pressure.
At home it's different. The Bernabeu is a stern and critical audience. They're still quick to whistle or jeer both Cristiano Ronaldo and Gareth Bale, the latter of whom isn't close to being fit enough for Tuesday's game. As with many mega-clubs, the mixture of "I've paid a lot to be here" and "we are the greatest and I expect that to be demonstrated" among the fans can be a tough burden for players to cope with.
No matter the opposition, the Bernabeu is full to the brim with "tourists" who have travelled far and dug deep to be there. Roar their throats raw in support of the team? Be patient as the game unfolds? No. It must frustrate the hell out of the team (although only Ronaldo actually exhibits it) that even against the backdrop of the La Liga title, back-to-back Champions Leagues and a thrashing of Barcelona in the Supercup, the Bernabeu remains split between those dressed all in white in the singing section and those who can't wait to moan or groan.
Smart opponents capitalize on that. If a visiting team at the Bernabeu can keep the ball, create chances and make Madrid look disjointed, then a third of the battle is won. The chanting becomes murmuring, the murmuring becomes groans and then, if Ronaldo misses a chance, the whistles start. It's bizarre. Reprehensible, I'd say.
But there's still more to explain Madrid's underwhelming start to the season at home, the kind of start that Spurs might well be planning on exploiting.
Injury followed by illness followed by suspension and/or international breaks. It's been one thing after another for a team that likes to be able to rotate its players and has already performed in four competitions this season. Momentum has been almost completely absent. Even now, Marcelo looks short of sharpness, Dani Carvajal is still absent, Keylor Navas is working against the clock to be fit, Karim Benzema probably doesn't have a full 90 minutes in him, Sergio Ramos was sick at the weekend but played anyway, Mateo Kovacic and Bale are out when they'd both have had a role here -- the list goes on.
It brings me back to my original point. Something happens to Madrid (plus Barcelona, Bayern and, in recent times, Atleti) when that Champions League hymnal blares out. Hairs go up on the back of the neck. Resolve stiffens, cobwebs blow away, injuries hurt less, motivation roars like a Ferrari engine; what's more, it always has in that stadium. It's in stark contrast to what Pochettino was trying to explain to Jorge Valdano when the two were previewing this tie on Spanish television last week.
The Spurs coach explained himself. "English footballers and English football don't do well at adapting to other cultures. Take an English player out of his environment and he'll suffer greatly. To an English player, the Premier League is far too important. I see it. I say to my guys, 'Right boys... we're going to play the Champions League this week!' and they'll answer, 'But it's the Premier League which is important to us, boss!'
"Mentally, they really feel like players when they perform in the Premier League. They'll compete in the Champions League or Europa League but they prefer the Premier league. They place too high a value on it."
Honest words from Pochettino, and he didn't mean them to refer to his squad alone, but there's a vast, vast difference between Spurs and Real Madrid. Meaning that before they attempt to play the reigning champions this week -- indeed to try to outplay them -- Tottenham Hotspur are going to have to undergo a mentality transplant, because it's in that area, far more even than in the head-to-head talent matchups, that their opponents have a massive advantage.
Real Madrid "want" this competition more than anyone else. And they always have done.
Graham Hunter covers Spain for ESPN FC and Sky Sports. Author of "Barca: The Making of the Greatest Team in the World." Twitter: @BumperGraham.