James Rodriguez's missed opportunity at Real Madrid leads to loan exit
Was James Rodriguez's loan to Bayern Munich as disappointing a transaction as it sounds for Real Madrid? In short, yes.
There are plenty of reasons for this. There's the frustrating fact that a player of his calibre failed to play as many minutes as he would have liked. The Columbia international more than compensates for his below average mobility with a gifted, almost magic left foot that allows him to pick opponents apart with pinpoint crosses. He can also score from seemingly harmless positions.
With the addition of Dani Ceballos, Real Madrid's midfield looks beyond loaded, but James contributes a spark -- a level of unpredictability that few players possess in world football. He's a player that justifies a system rebuild or a tactical formation change to accommodate him.
Then there's the price. Official numbers haven't been disclosed, but reports claim Bayern Munich will pay €5 million for each of the two seasons James will spend on loan, plus his full salary. The German club will then also have an option to purchase his contract for between €35.2m (according to Sport Bild's Christian Falk) and €60m, according to Marca's Jose Felix Diaz.
For a player who cost Real Madrid around €80m and only played his best football for four unforgettable months in 2014, the fee is painfully low. Even more so when you consider the fact that Florentino Perez's club is expected to get at least €70m.
James' tenure with Real Madrid was full of highs and lows. For each ball he fired to the angle of the opposition's goal, there would be an argument with his coach, be it Rafael Benitez or Zinedine Zidane. For each inviting cross he floated for Cristiano Ronaldo or Alvaro Morata, there would be a couple of ill-advised statements to the media. For each long pass that fell exactly where Gareth Bale or Lucas Vazquez wanted, there would be a below average training session that would frustrate teammates and manager alike.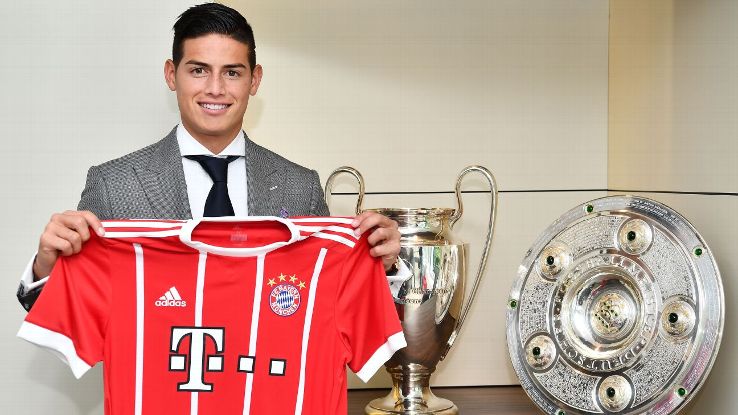 It was hard to keep James motivated and on board, even though Zidane tried a few times this past season. In fact, ever since Carlo Ancelotti left Real Madrid, James rarely looked at ease at the Bernabeu. Last summer, most Real Madrid fans expected him to leave, as he publicly complained about his status in the squad.
But he tried again, albeit never with the dedication his manager demanded. His contributions to the so-called B-side in last season's La Liga title are unquestionable, and that is something most Real Madrid fans will remember. But he was still not good enough to make the first-choice team -- nor was he in the shape Zidane demanded for the Champions League run.
In the last five matches of the tournament, he only played seven minutes against Bayern in Munich. He didn't step onto the pitch for the return leg in Madrid, and failed to play in either of the semifinal matches against Atletico Madrid or for the final against Juventus in Cardiff. With those credentials, it was hard for Real Madrid to keep James' price tag as high as they would have liked.
He has shown much better judgement throughout the departure process than he displayed in many instances during his three-year spell in Madrid. He did say goodbye to the fans in his last match at the Bernabeu, and after announcing his departure, bid farewell with a classy tweet.
The fact that he'll reunite with Ancelotti in Munich should help him return to his best form, but his impending departure from Real Madrid was so painfully obvious that it was hard for the club to defend its investment -- and even more so after bringing in Ceballos.
James' farewell is painful for what could have been, but it is also an exercise of pragmatism by the club. It's time for both parties to move on and see what happens over the next two seasons.
Eduardo is one of ESPN FC's Real Madrid bloggers and has been a socio since 1995. Follow him on Twitter @alvarez.