Cesc Fabregas losing sleep over Chelsea form, backs Jose Mourinho
Cesc Fabregas says he has been suffering sleepless nights during Chelsea's miserable season and that he cannot understand what is going wrong.
The defending Premier League champions have lost seven of their 12 matches to sit only three points above the relegation places, and some 15 points off the pace set by Manchester City and Arsenal.
It is a dramatic turnaround from last season, when they cruised to the title while also winning the League Cup.
"Our season is being screwed," Fabregas told Marca. "Things aren't working out and the results aren't doing our performances justice. We're playing better but aren't having any luck.
"When things are going your way, you flick the ball with your heel and it flies into the top corner, whereas now every piledriver is going off target.
"Either way, we need to get back to winning ways sooner rather than later."
Asked whether he had suffered sleepless nights, he said in The Times: "Yes. When things don't go right. Football is my life. It is everything to me. My family keep me happy sometimes, but when football does not go well, my life is not happy. We are used to always being at the top."
Fabregas is among the players singled out as having underperformed, while manager Jose Mourinho's future has been repeatedly questioned, but the former Barcelona midfielder said he still had the trust of his manager and vice versa.
"Things with Mou are good," he said. "Obviously when you're not winning things always get said, whereas when you're winning everything's rosy. When you're not winning everything is that much harder, but all of us -- the players, fans and the coach -- have to pull together and hang tough.
"We're the only ones who can turn things round. Nobody is going to give us a helping hand. We're still in a position to challenge the big boys in the Champions League, but in the Premier League we need to get our act together right away."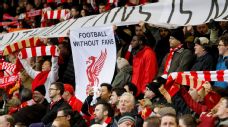 Fabregas has already dismissed allegations he is leading a dressing-room revolt against Mourinho and he added: "I cannot support him even more than I am doing. I am always saying he deserves [support] -- 100 percent.
"We are not playing well, but that does not mean we are not in favour of the manager. We want to win for Chelsea. That is the first thing. We want the club to be at the top and [likewise] Mourinho, who is having difficult times, and the players."