Neymar out of Copa America with ankle injury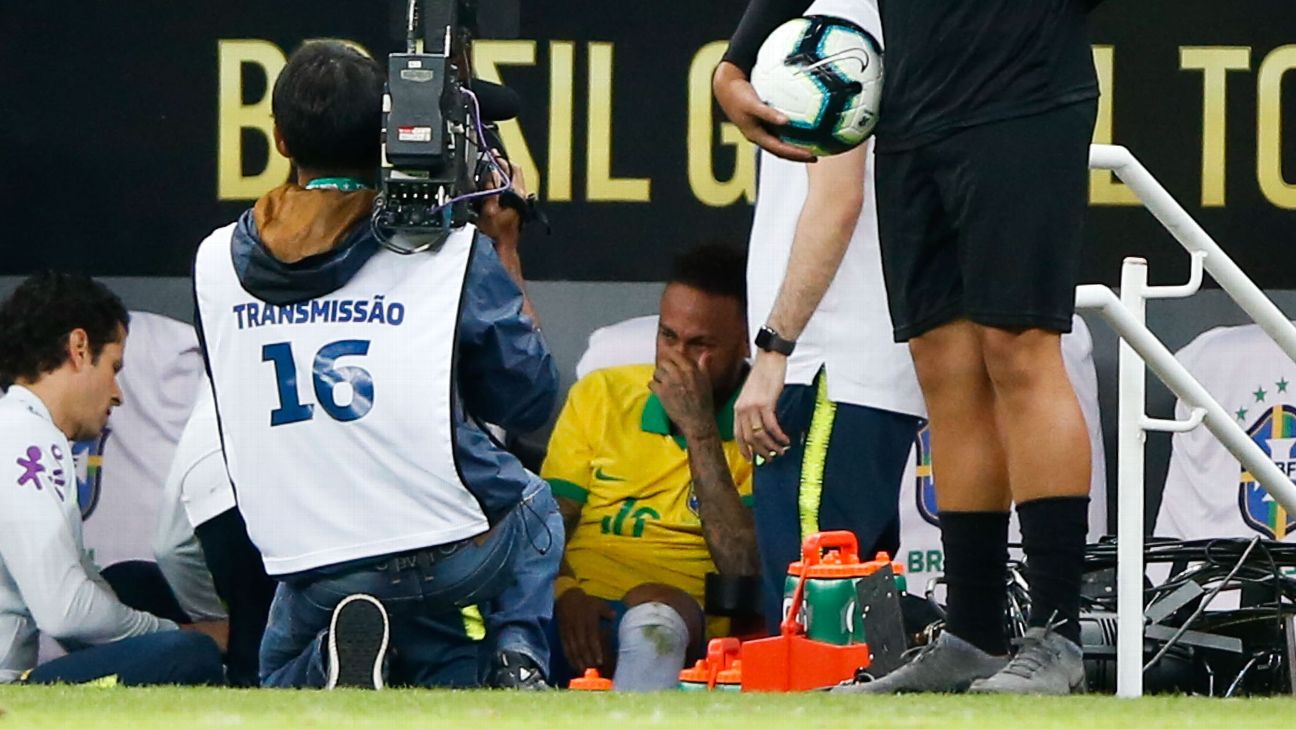 Neymar is out of the Copa America after suffering a right ankle injury in a 2-0 win over Qatar on Wednesday night.
The Paris Saint-Germain forward left Brazil's friendly victory in tears after twisting his ankle following a hard tackle early in the match. He was replaced by Everton around 21 minutes into the game as goals from Richarlison and Gabriel Jesus sealed the win.
- When is the Copa America?
- Full Copa America fixtures schedule
The Brazilian Football Confederation said in a statement early Thursday that Neymar had a ligament rupture in his ankle and will not recover in time to play the South American tournament.
"After suffering a sprain in his right ankle during Wednesday's game against Qatar, Neymar was evaluated and subjected to complementary imaging tests that confirmed ligament rupture in the ankle," the statement read.
"Due to the seriousness of the injury, Neymar will not have the physical conditions and sufficient recovery time to participate in the Copa America.
"As of this Thursday, the technical committee of the Brazilian national team will begin the definition of a substitute."
Brazil coach Tite will have until June 13 to call a replacement for the 27-year-old. The Canarinha take on Honduras on Sunday in their final warm-up game before they begin the Copa America against Bolivia on June 14. Brazil, the tournament host, also faces Peru and Venezuela in Group A.
Neymar left the Mane Garrincha stadium on crutches before the match ended. He was accompanied by his father and Brazil's confederation head Edu Gaspar.
PSG detailed the diagnoses of their star in a statement on Thursday.
"Neymar Jr. suffered a severe sprain of the outer lateral ligament of his right ankle in Brasilia during a warm-up match for the Copa America. Paris Saint-Germain's Brazil striker will be reassessed by the club's medical department within the next 72 hours to define the rehabilitation process and recovery time for the player," it read.
Later on Thursday, Neymar posted a picture of the golf-ball sized bulge on the outside of his right ankle, with the caption: "After the storm comes the calm."
The friendly was the first major public appearance for Neymar since a woman accused him of rape at a Paris hotel on May 15.
Najila Trindade Mendes de Souza told Brazilian TV outlet SBT that she had agreed to have sex with Neymar, but when she told him they couldn't because he didn't have a condom, he "turned aggressive."
When the interviewer asked if what happened on May 15 was rape or an "aggression," she responded that it was "aggression together with rape."
"I just want justice; he left me very traumatized. I want him to pay for what he did," she said.
Neymar, who has said he had two encounters with Mendes de Souza in France, has denied any wrongdoing.
On Thursday, Copa America co-sponsor Mastercard issued a statement to ESPN Brazil saying they will put a Copa America ad campaign involving brand ambassador Neymar on hold "until the matter is resolved."
Information from the Associated Press was used in this report.