Real get a confidence boost, woe for Liverpool, Coutinho struggles
Sometimes, when you're looking to rebuild confidence and regain mojo, victories like these can be more beneficial than one-sided thumpings. Sometimes, being fortunate (which they were) and being reminded that they're more talented than the opposition (which they are) can be worth more than a convincing performance when it comes to self-belief.
Real Madrid's 4-1 win away to third-place Valencia shouldn't fool you. They took a 2-0 lead through two penalties, converted by Cristiano Ronaldo and gifted by Martin Montoya, and then were hammered for most of the second half. Santi Mina pulled one back for the home team, then Keylor Navas made a superb save from Dani Parejo. Starting together for the first time since April, the "BBC" were nowhere and the midfield were getting overrun.
Zinedine Zidane's late changes (Lucas Vazquez for Gareth Bale and Marco Asensio for Karim Benzema) didn't change the game, although Madrid's last two goals came after the substitutions, and that will be part of the narrative. What changed it is the simple fact that Madrid scored two tremendous goals: both came against the run of play and both were down to simply having more talent of the kind that comes alive and works together to win games.
It's a cliche and a football truism: great players win you matches. And Madrid had the starkest reminder yet that they have some genuinely uber-gifted individuals who can turn it on -- and do it collectively as both were very much team goals, which is important -- even when things aren't going right. You can count on one hand the number of clubs around the world who have this luxury.
Zidane is still left with more questions than answers, starting with how to fit his pieces together. How long does he persevere with the BBC? What does he do with Isco or, for that matter, Marco Asensio?
Meanwhile, they most definitely dodged a bullet at the Mestalla. Valencia were fearless and devastating after the break; Marcelino will feel he should have won that game. Coupled with the midweek home elimination at the hands of Leganes, defeat here would have really hurt, but instead it's another (small) lease of life. Win their game in hand and they're third in La Liga again, possibly even contemplating catching Atletico in second.
It will all be moot, of course, if they fall to Paris Saint-Germain in the Champions League. For a team that's still far more mentally fragile than it should be, Saturday gave them a few more certainties and a bit more solidity. And therefore, it gives them a better shot against PSG.
Liverpool's defense lets them down again
Liverpool are out of the FA Cup, and it's the sort of exit that often gets spun into the "blessing in disguise" narrative. Well, it shouldn't be. Losing at home to a West Brom side that is clearly more preoccupied with Premier League survival and doing it in the usual manner (Keystone Kops defending) is worrying.
This time, it wasn't a side effect of a high pressing game; it was simply individual errors by players who really should perform better. You can blame Jurgen Klopp for tactics and physical preparation, but these mistakes have little to do with that. This was just poor execution.
"It's not allowed to concede goals like we conceded," said a frustrated Klopp after the game. "That's it!"
If only it were that simple.
Rotated Bayern still win big
Jupp Heynckes shuffled his lineup for the visit of Hoffenheim -- and the guy who, until recently, seemed his anointed successor, Julian Nagelsmann -- by reverting to a scheme with two central midfielders, Corentin Tolisso and Sebastian Rudy, Arturo Vidal breaking from midfield and Thomas Mueller and James Rodriguez watching from the bench.
Initially, it blew up in their faces as Hoffenheim raced to a 2-0 lead with Serge Gnabry (who happens to be on loan from Bayern -- where else?) winning a penalty and scoring the second. But normal service quickly returned as the Bavarians quietly picked apart the opposition on their way to a 5-2 win.
That's what you do when you're 16 points clear. As for Nagelsmann, this wasn't an audition, but Hoffenheim's inability to manage a 2-0 lead ought to raise questions. And not for the first time, either.
Maybe that's why my colleague Raphael Honigstein is reporting that Bayern now want Heynckes to stay even though he turns 73 in May and has repeatedly said he's done at the end of the season.
Barcelona lucky in Coutinho's subdued debut
With a big lead in La Liga and two big cup ties coming up -- against Valencia in the Copa del Rey and later, Chelsea in the Champions League -- Ernesto Valverde rightly used Sunday's home game against Alaves to rotate and tweak his Barcelona side.
Top of the agenda is finding a role for Philippe Coutinho, who was making his debut. Valverde put him wide right in a 4-3-3 that had Lionel Messi starting in the middle, with Luis Suarez just to his left. Perhaps not surprisingly, Coutinho struggled to find his role in the game, often ending up where Messi was. It will take time to find a solution, and he has the versatility to slot into different roles. As poor as his debut was in tactical terms, take it for what it was: part of a learning process.
More of a concern is the fact that Barca struggled and were frankly fortunate to win 2-1. Defensively, there were cracks at playing the high line -- yes, it's true, you really notice what Sergio Busquets brings when he's not there -- and while John Guidetti was a bit fortunate for his goal (he slipped and the ball somehow seemed to deflect off his wrong foot), he probably should have scored earlier. At the other end, Messi and Suarez created little.
It got better in the second half after Sergi Roberto and Jordi Alba came on but even then, Suarez's goal caromed off Gerard Pique's arm (involuntarily) and Messi converted a free kick that should not have been given. There's no reason to panic, but there's plenty for Valverde to take notes on and tweak. He knows he'll be judged on what comes next anyway.
Backlash over Cardiff's tackling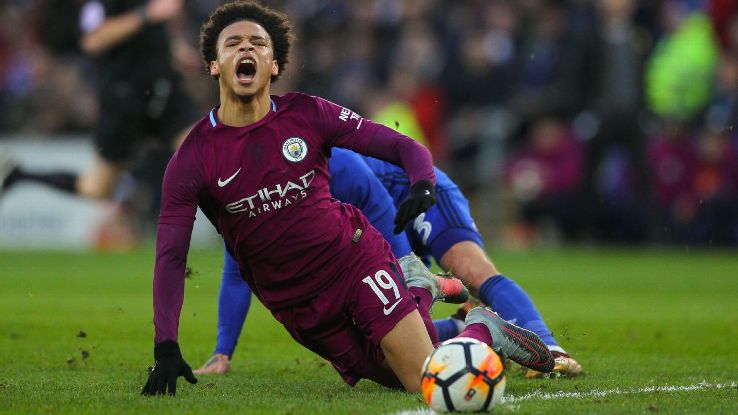 If you haven't seen Joe Bennett's horror tackle on Leroy Sane in Manchester City's 2-0 win over Cardiff in the FA Cup, consider yourself warned: it's ugly. The way Sane's ankle seemed to buckle is simply nasty. If, as City suggested, he'll only be out for a month or so, then Sane either has elastic legs or he's extremely fortunate.
Pep Guardiola was understandably livid during the game, seething afterwards. "I've said many times, the only thing the referee has to do is protect the players ... not just Manchester City players, all players ... the players are the artists ... they are why we are here."
I don't know that there is much argument here. It's a physical sport and players will get hurt. But at the same time, players have a duty to look out for their fellow professionals, and when they do stuff that is unnecessarily dangerous, like Bennett's tackle, punishment ought to be swift. Instead, all Bennett got was a yellow card.
Even less helpful was his manager's reaction. Neil Warnock first joked that Bennett wanted to get himself suspended so he could miss Cardiff's next away game (hilarious!) and then, when told of Guardiola's reaction, said "but he's in England ... what [does he] expect?"
Maybe Warnock's England is stuck somewhere in the 1980s. English football today doesn't accept those types of tackles as the backlash to Bennett and Warnock showed.
VAR talk overshadows Milan's latest win
Don't look now but Milan have won three games in a row, whittling the gap between them and the Champions League spots from 14 points to 10. It's still a lot and they likely still won't get there, but the proverbial green shoots are there. We're not talking just in terms of results -- the Patrick Cutrone goal that gave them the win over Lazio should not have stood -- but rather in terms of performance. The midfield worked hard, Hakan Calhanoglu had his best game in a Milan shirt and they played with swagger and confidence.
A word on the Cutrone goal, which came off a Calhanoglu free kick. Replays later showed the ball came off his arm, prompting the obvious question: why didn't the VAR spot it?
The reason is technical. It was extremely difficult to notice, and in fact, it's obvious from only one replay angle. The technicians who supply the replays to the VAR in the booth were more preoccupied with whether Cutrone was offside and whether there was a foul on the play. The VAR ref never got to see it. None of the players or commentators noticed either, and because the priority was to make a quick decision, it was allowed to stand.
It's not a reason to do away with VAR, as this was an extreme case. But it does underscore the importance of this trial and how key it is to learn from it to improve the protocols.
Cavani grabs record as PSG romp
Paris Saint-Germain stomped all over Montpellier as Edinson Cavani broke the club's goal-scoring record, notching his 157th goal for the club in all competitions. You're happy for Cavani, although as records go, you wonder how meaningful it is given the club was only founded in 1970 and only started really splashing the cash in the Qatar Era. Incidentally, this last bit explains how he was able to break the record in four and a half seasons, three of them spent playing second fiddle to Zlatan Ibrahimovic.
With Lyon losing at Bordeaux, their lead in Ligue 1 is back up to 11 points and with Neymar brushing off the recent boos and speculation -- "I'm happy in Paris, I'm here to make history" -- all is well again in the City of Lights, Financial Fair Play permitting, of course. Which is why they're working hard to claw back some money and fix the books through the sales of Lucas Moura (to Tottenham) and, possibly, Javier Pastore (maybe to Inter, maybe elsewhere).
Give Batshuayi a chance?
It's hard to dislike Michy Batshuayi. He moves to Chelsea for £40 million, he starts all of four league games in his first 19 months and still has enough humor left to adopt a superhero persona on Twitter. (I'm not sure Batman necessarily works, but I'd love it if they played this every time he ran on to the pitch).
On Sunday, he scored twice as Chelsea dispatched Newcastle 3-0 in the FA Cup, prompting some to suggest that Antonio Conte might halt his hunt for a striker (Edin Dzeko?) in the final hours of the transfer window. They're very different players, and I'm not sure one is the alternative to the other. But given that he's up to 10 goals this season and averaging a goal every 107 minutes, maybe he deserves a little more love?
Gabriele Marcotti is a senior writer for ESPN FC. Follow him on Twitter @Marcotti.